EV transition tool
EV Transition tool
With MoveElectric, you have unlimited access to Masternaut's EV transition tool, to assess which vehicles in your fleet you could move to electric. We analyse your operations data, such as the travel patterns of your vehicles, to help you find out which vehicles would be suitable to switch to electric, and which models available on the market today may work for you. You'll also be able to estimate the impact on your running costs and CO2 emissions.
Getting you started on the EV transition tool
To get you started, we've already set your EV transition tool with some basic parameters, however we would always recommend the following steps to tailor the assessment to your very own situation :
+
Refining your transition scenario
Select "Options" to refine the parameters of your assessment. You can change the fuel and electricity cost, as well as adjust how you plan to charge your vehicles.
You can also adjust the tolerance over range : if you set the threshold at 15%, that means a vehicle will only be considered "over range" when it performs a total mileage in a day which is equivalent to the vehicle range + 15%
You can also select the threshold which will determine whether a vehicle is frequently over range. If you set the threshold at 20%, that means that a vehicle must go over range for at least 20% of the driven days to be considered frequently over range. 
Zoom in on specific vehicles
In the chart below, you can zoom in to find out which specific vehicles would have been over range on specific days, including the maximum mileage, as well as minimum and maximum over the time period selected.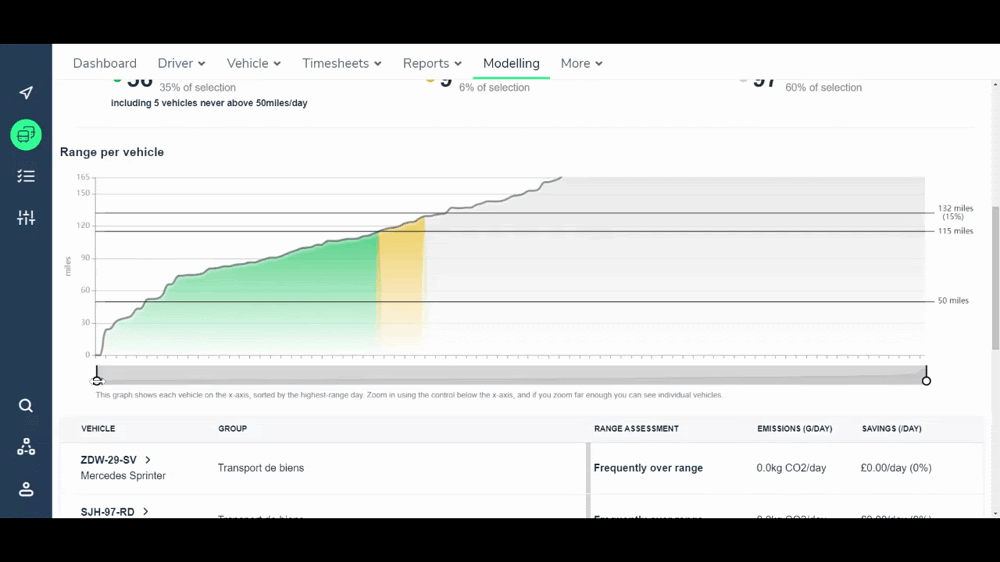 Explore in detail every vehicle in your fleet, to understand their status in terms of suitability to move to electric, and see the impact of transitioning them to EV on Co2 and operating cost.
You can also click on each vehicle to see suggestions of electric vehicles that may also work for your operations, and find out more about their technical specs.
---
---