How to manage vehicle checks
How vehicle checks work
The Masternaut Connect platform and the SmarterDriver mobile app provide a simple, digital process for performing and managing vehicle checks.
Each driver needs to download the SmarterDriver app on their phone. Using the official DVSA checklist, drivers will then swipe left or right to clear the item or report a fault. Vehicles are associated to a driver through Connect, ensuring that when using the app, they will see the relevant vehicle to perform a check on.
Enabling vehicle checks for the right users
Make sure vehicle checks functionality is enabled within Connect for the specific roles that require access to it.
Select 'Roles' from the drop-down menu.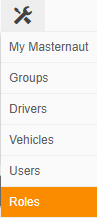 For each role that needs access, click 'Select features' and check the 'Vehicle Checks' box. Every user defined as this role will now have access to vehicle checks functionality within Connect.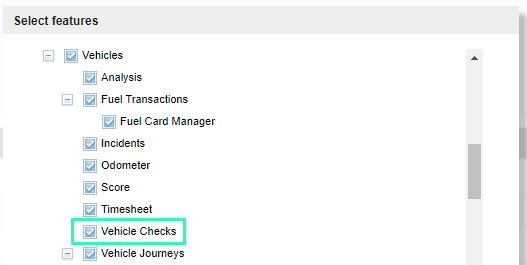 Setting automated emails
As soon as a driver submits a vehicle check, it can be viewed immediately in Connect. The report can also be emailed automatically to a designated address. On Connect, to enter the vehicle checks hub, go to: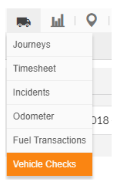 To change the email settings for reports, click on Setup Email button
By default, only reports that require action (i.e. have faults) will be emailed, but this can be changed by checking the box below.

How to view reports
Vehicle check reports can be searched for within Connect using a variety of filters. To view more detail about a report, click the time stamp in the Created Date column.

Each vehicle check report provides the exact detail submitted by the driver. From here, detailed information can be viewed and reports can be updated to reflect their current status.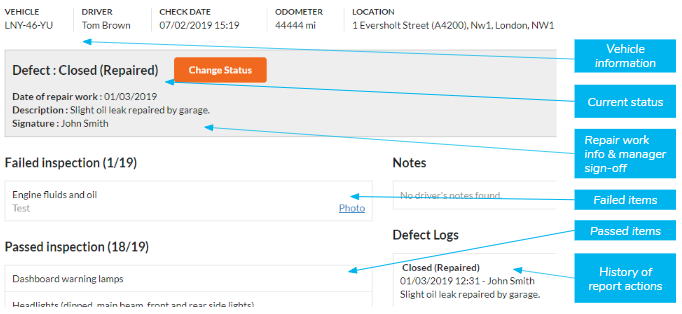 How to update and export reports
To update a report, click Change Status button and fill in the information as required.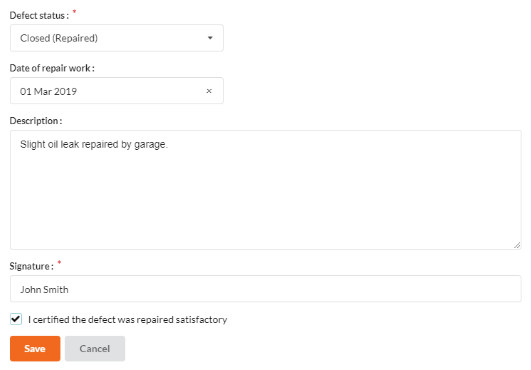 Every saved update will be shown in the Defect Logs. This provides a fully traceable, transparent history of actions taken, to prove compliance with safety standards.
Reports can also be downloaded as a .csv file by clicking CSV Export button.
---
---