How to approve and report on mileage expenses
How mileage expense reports work
MICHELIN Connected Fleet's mileage expense solution is a digitised, streamlined process that makes mileage approval and reporting easy for managers. It cuts costs, saves time and provides a reliable HMRC audit trail.
Each driver needs to download the SmarterDriver app on their phone. The app uses MICHELIN Connected Fleet MyConnectedFleet data to generate journeys and accurate mileage reports. It automatically calculates the estimated cost of reimbursement based on mileage and the chosen expense rate.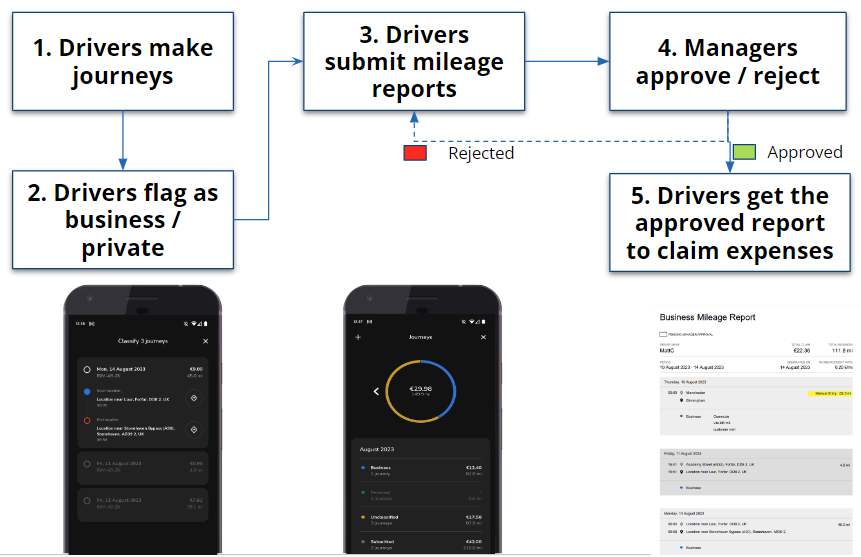 Approving mileage reports
Once a driver has submitted their mileage report, managers will receive an automated approval request via email. This will clearly state the amount being claimed, the reimbursement rate and if there is any unusual activity, such as manually added journeys. The request can then be approved or rejected by clicking either button. The driver will then receive an email saying whether their report has been approved or rejected.
Note: the approval email address is added in the app by the driver, so ensure that they are given the correct address.
Example of approved report
How to report on mileage claims
Managers can easily run reports on mileage expenses within the MICHELIN Connected Fleet MyConnectedFleet platform. They can be set to run automatically at any frequency and are sent directly via email.
Go to Drivers, Vehicles & Reports -> Reports Library
Select the desired expense report:

The report shows the total mileage for each driver. It also provides further detail, such as whether mileage has been submitted or approved, and the amount of business / personal miles.
Note: by default, all unsubmitted miles are counted as personal mileage in the report.
---
---