Vehicle Maintenance
What is Vehicle Maintenance?
Vehicle Maintenance allows remote collection of up-to-date maintenance information straight from the vehicle's electronic control system (CAN bus) for light commercial vehicles (LCVs) and cars. Note HGVs are out of scope of this offer.
What are the key benefits of Vehicle Maintenance?
Making your fleet safer with live maintenance data collected from the vehicle CAN bus
Improve maintenance planning with centralised faults and servicing information
Enrich fleet administration system with maintenance data via Connect API
What information is recorded?
Common faults collected are around the engine status, vehicle safety and vehicle servicing. The availability and information returned varies by vehicle make/model and the CAN bus network. 
Typical information captured includes:
Engine status: Engine Warning Light, MIL, Oil level, Oil/water temperature, Oil pressure, water temperature, low coolant fluid level
Safety: ABS malfunction, brake fluid level, braking system, brake pads worn out, airbag, TPMS
Servicing: distance or days to service
How is the information viewed?
Maintenance reports can be viewed via a web browser or received as a regular email.  In addition there are APIs available.
Is this suitable for all types of vehicles?
The solution is suitable for light commercial vehicles (LCVs), and some cars. HGVs are out of the scope of this product.
Which vehicles are supported?
Compatibility can vary between make and models and although Masternaut maintains a high level of coverage (92% of the current estate), this will vary from fleet to fleet and the services required.
How does Masternaut keep up-to-date with new vehicles?
Masternaut has a dedicated engineering team who are responsible for maintaining vehicle compatibility for Masternaut systems. Based on market analysis of the top 100 LCVs and cars in the UK and France the team proactively identifies new models to be included.  
How to access the Connect Maintenance feature
Each user requiring access to the reports needs to have the following features in their user access ʻrole'.  
The features needed are; 
Maintenance: Provides access to the web based report
Maintenance Due Report or the Maintenance Fault Report: Provides access to the specific report.  It can be viewed on line or scheduled as an email.  
Roles are setup in Settings > More > Roles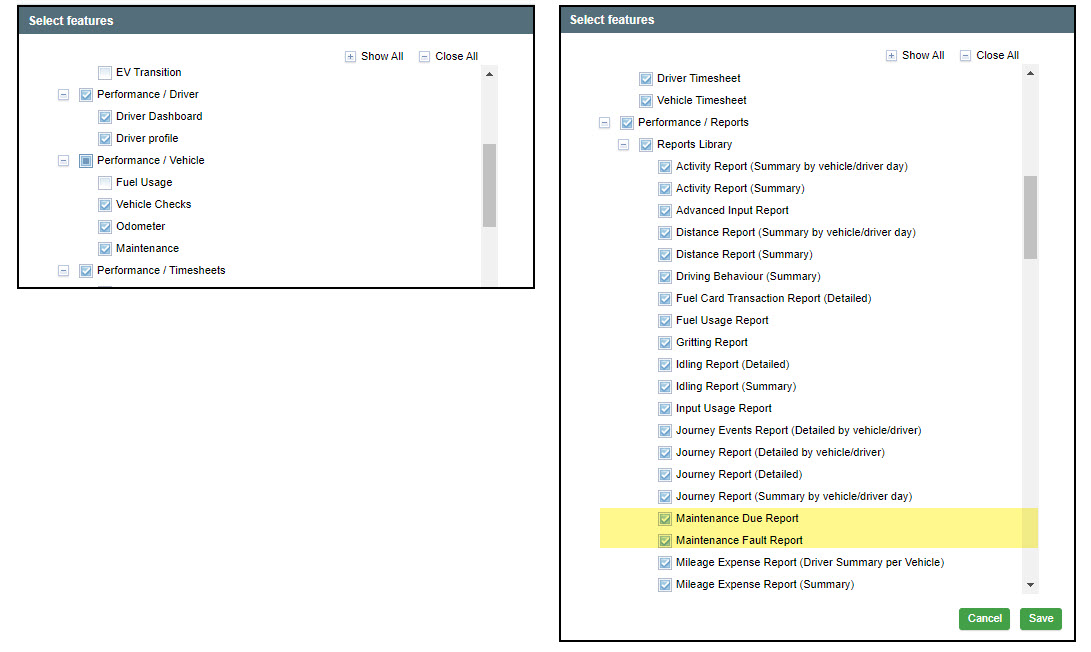 Access via the main menu "Driver, Vehicle & Reports", then select the "Vehicle" tab" and "Maintenance" option from the menu.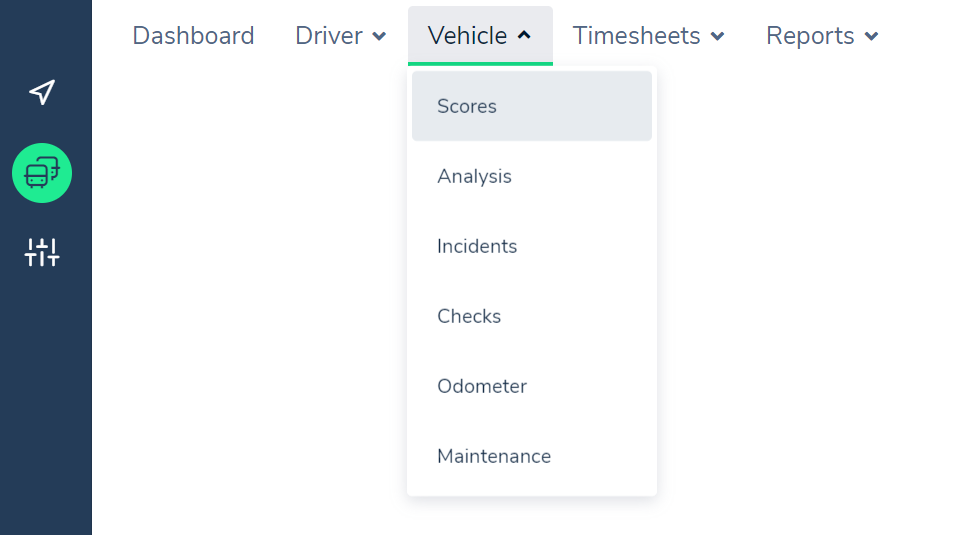 How to use the Connect Maintenance feature
The page shows a list view of all the vehicles with active faults and overdue services.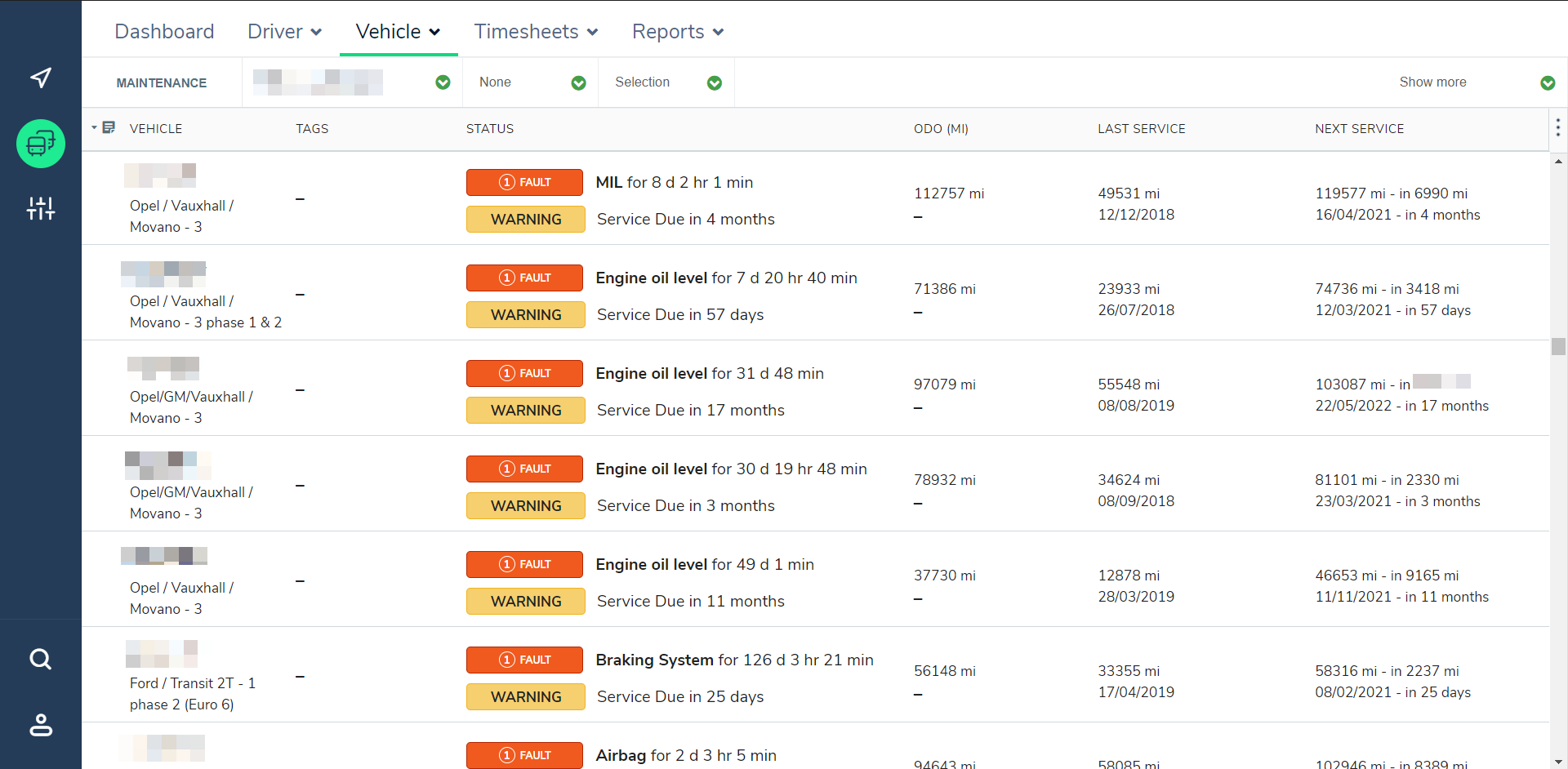 Filters allow you modify the maintenance information based on vehicle faults and overdue services.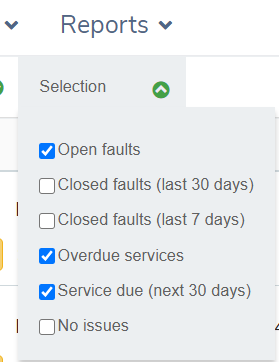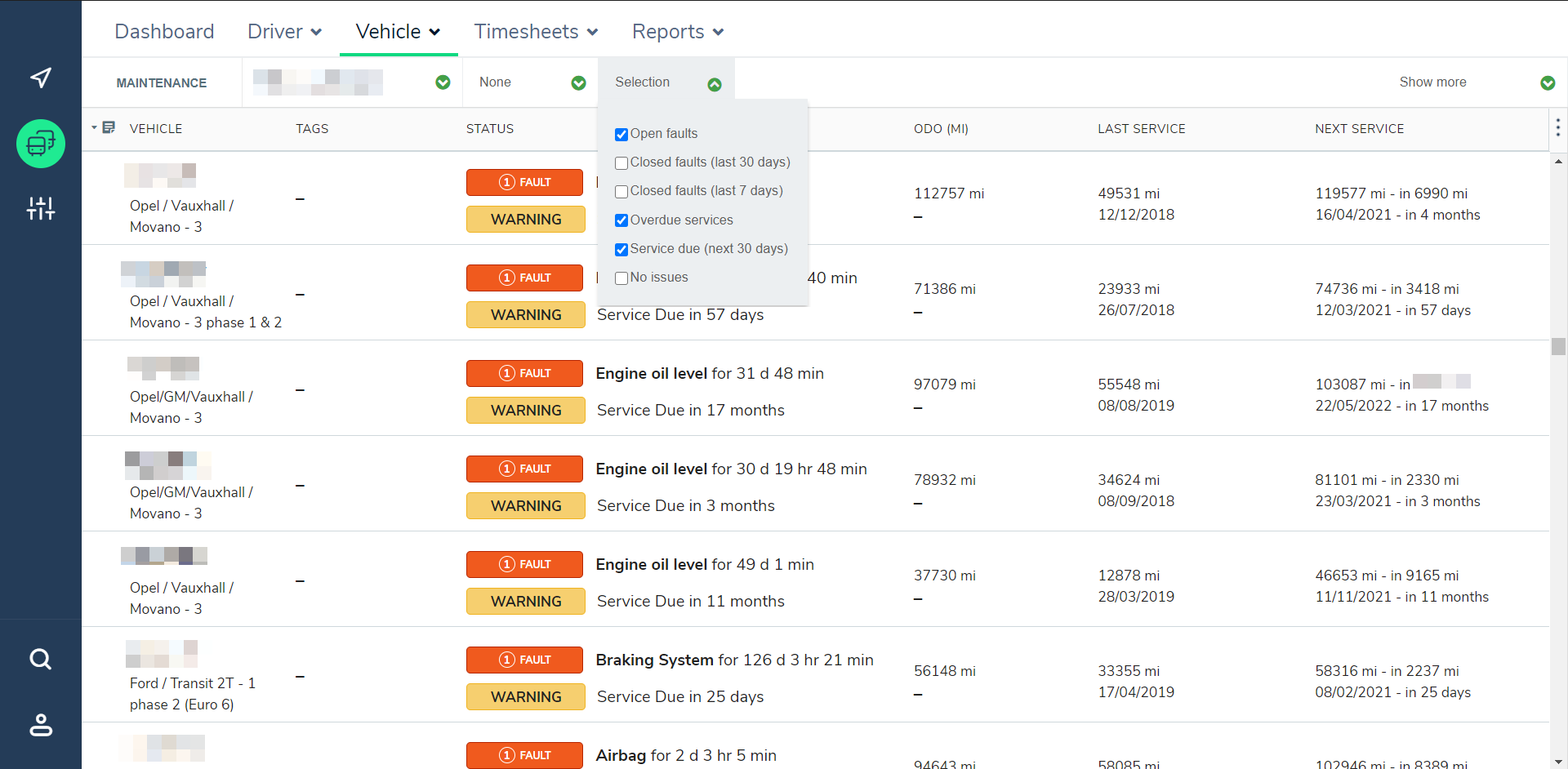 There is also quick access to the dedicated reports.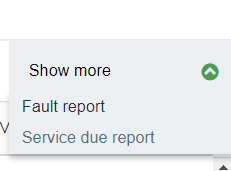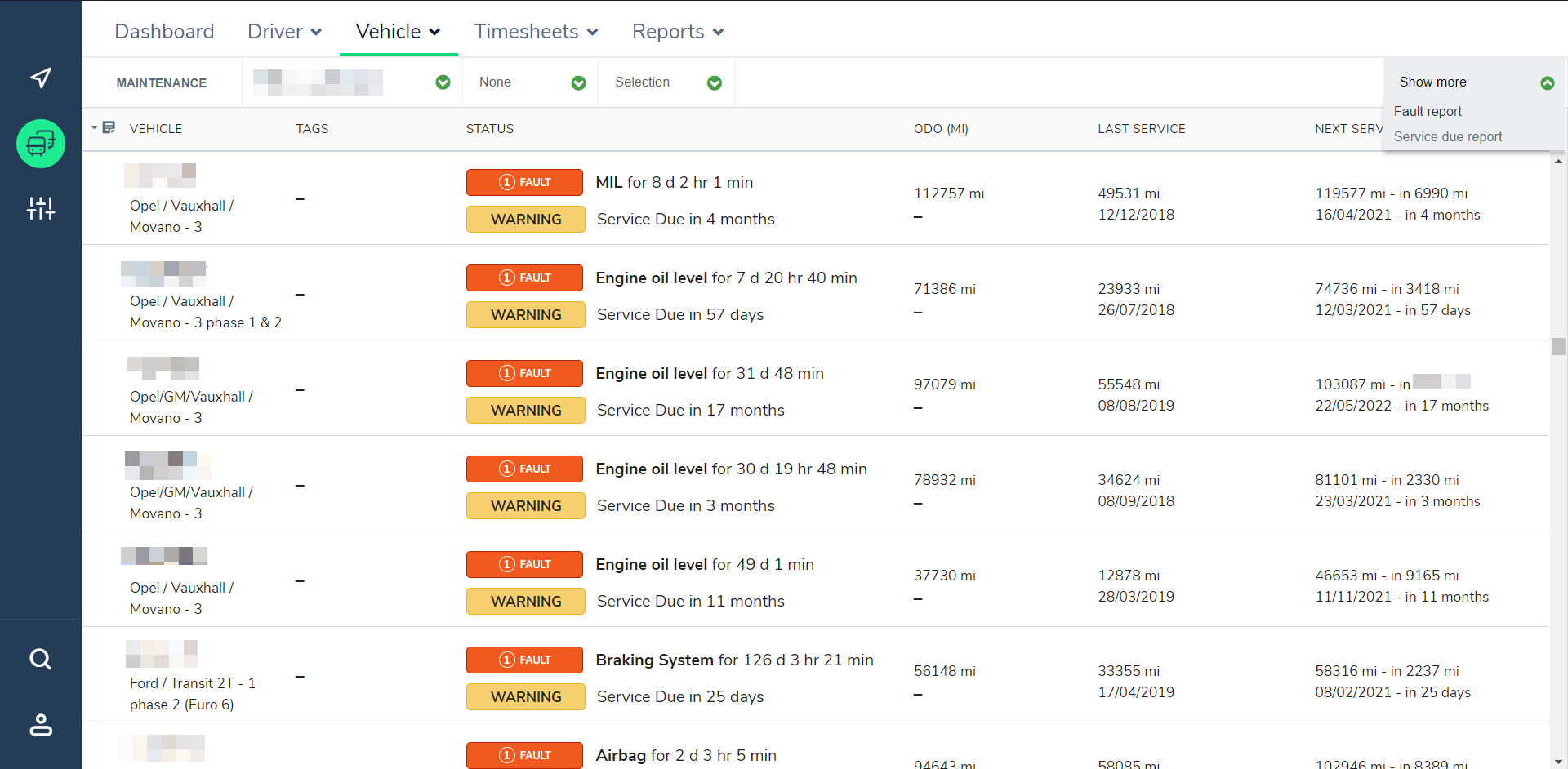 Pressing any vehicle row opens up a detailed view of a single vehicle.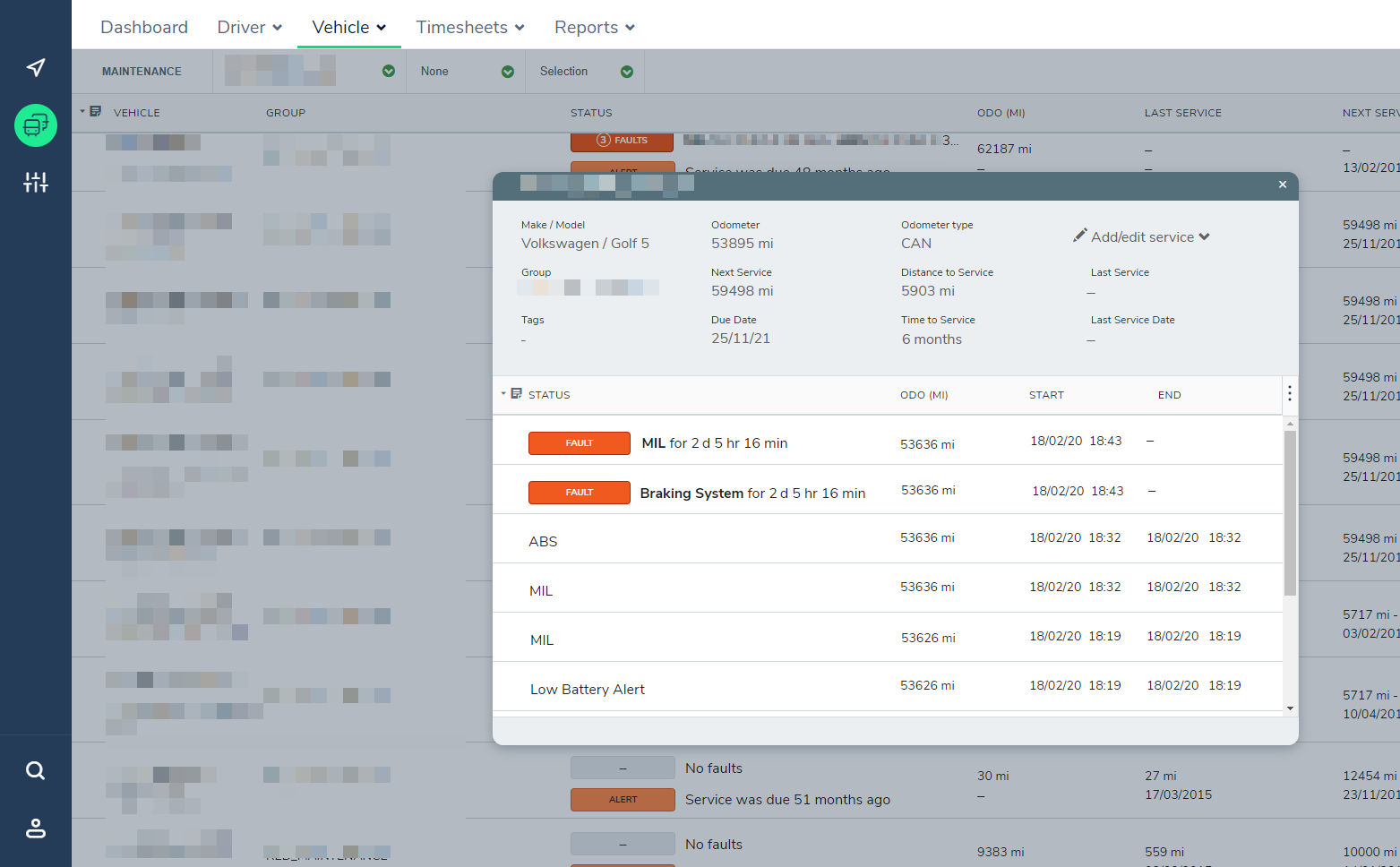 What is the "Maintenance Fault Report"?
This report lists vehicles with faults and highlights the faults that are currently active.
For each fault, the reports shows:
The description of the fault
Date the fault was detected (or closed)
The odometer when the fault was detected (and when it closed)
If the fault is currently active
What is the "Maintenance Due Report"?
This report lists all vehicles where a service due date is set. It shows all overdue services and those due in the next 60 days.
For each vehicle, the reports shows:
The service due date
Distance to the service due date
Whether the service is overdue
Are there APIs for Vehicle Maintenance
Vehicle Maintenance information can also be accessed and integrated to other business software you are using through APIs.
These are simple RESTful JSON APIs that are easy to setup and use. All APIs are fully documented.
---
---