Maintenance (Preview)
Maintenance (Preview)
What's New?
The latest version of maintenance has a new look to it with enhanced functionality for you to benefit from.   
The new view has new areas to look at including
New filter functions
New icons, colour coded to show the type of fault and
Vehicle health dashboard showing you the total of the latest faults identified
List of active faults. 
Shortcuts to get through to a full list of data behind these alerts.
The main panel now shows the vehicles with the list of faults identified using icons rather than text to make it more visible to fleet administrators. 
This also allows you to click through to find more detail on the fault.   The new colour coding of the icon also gives fleet teams the ability to decide on the priority of the fault and aids with the planning of maintenance.  On the example shown below, the orange icons indicate critical alerts and yellow are warnings.

By clicking here, it allows the vehicle to be investigated, deferred or booked in for service.  When the status is changed, the icon changes to be able to differentiate between faults that need actioning and faults that have been planned or booked in to be rectified.

The vehicle view now also shows who and when the last changes were made to the vehicle status - allowing for clearer audit trails and ensuring that statuses are not left unactioned for lengthy periods.
The new maintenance module also allows you to investigate the individual faults and work out when they were detected and how long this has been an issue for.
In addition to this, the filter function in the top left of the screen has been improved.  This allows for you to filter the vehicles by fault, fault priority and vehicle status.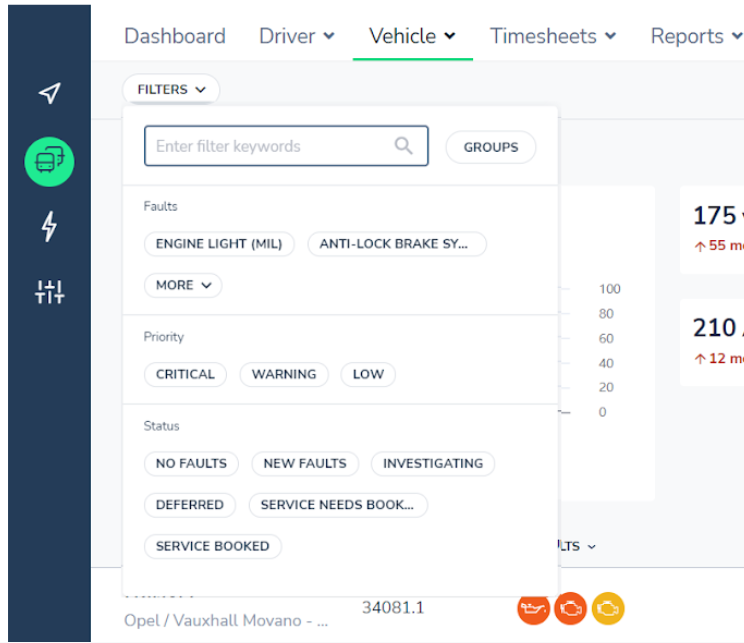 ---
---