Live Tacho View
Introduction
This page aims to present the Live Tacho View - also called the Find Best Driver view.
The view is driver-centric:
if a driver is not identified using his tachograph driver card, data is not displayed.
if a unique vehicle is used by more than a driver during a shift, the activities will be displayed in a specific line for each driver.
The tachograph Live view is based a new tacho data feed developed and maintained by MICHELIN Connected Fleet.
By default, all data comes from the events captured by the M400 using the ISO protocol and diagnostics technology, and the aggregated by Masternaut.
New data is captured every minute and updated in near real time
Targeted persona
It addresses the dispatcher or the traffic manager. It enables them to search and find which drivers have the most remaining time for an extra job.
How to use it?
The end-user can view the identified drivers, who are currently using or were using the vehicles recently.
The drivers with the most remaining daily driving times are displayed at the top by default.
However, the end-user can choose another preference and :
Filter the list of drivers by group or select one specific driver
Filter the list of drivers depending on a specific activity: break/rest, availability, work, drive
Filter the list of drivers depending on whether they have activities today or not
There are two different visualizations :
Timers tab focus on accumulated and remaining times with the ability to

Show only the useful timers by selecting the appropriate columns
Use a specific column to sort drivers and prioritize the drivers' times

Timesheets tab focus on detailed activities of recent past

Activities and infringements are displayed as activity blocks
Timesheets are all centred on current time (in the user's time zone)
Optimal activity suggestions are provided for the near future

Selecting a specific driver expands a larger area with more details for that driver
Pressing the "More" button navigates to the driver's history view, where data from the past can be analyzed from date to date
Pressing the "Refresh" button updates all drivers with the latest data captured from the tachographs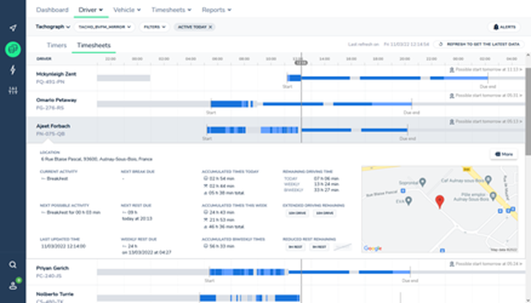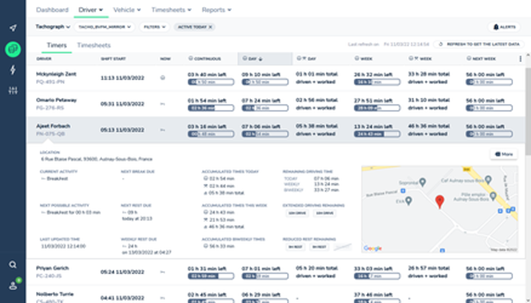 What data is available?
The current vehicle in use by the driver
The current tacho activity
Start date and time of current shift
The next optimal activity type and duration
Accumulated timers as provided by the tachographs

Accumulated driving times: continuous, daily, weekly, bi-weekly
Accumulated "Other work" times: daily, weekly
Accumulated service times: daily, weekly

Remaining timers as provided by the tachographs (according to the EU regulation)

Remaining driving times: continuous, daily, weekly, bi-weekly, next week
Remaining service times: daily, weekly (will be available soon, provided by partner)

Next due break/rest dates and times (according to the EU regulation)

The time of next due break and minimum duration
The time and date of the next due daily rest and minimum duration
The time and date of the next due weekly rest and minimum duration

Current location (address, point of interest)
Number of days with extended driving time (10h)
Number of days with shortened rest (9h)
Date and time of the last update from the tachograph
Timesheet of recent past and near future

Activities with start date and time, duration, location, and distance travelled

Drive
Other work
Availability
Break/Rest
Card ejected (used when driver card is ejected before switching tachograph into Break/Rest)

Infringements (according to the EU regulation) with start date and time, duration, location, and distance traveled

Exceeded continuous driving time (4h30)
Exceeded daily driving time (9h - 10h)
Insufficient daily/weekly rest
Exceeded weekly driving time (56h)
Exceeded bi-weekly driving time (90h)
Driver card expired
Mandatory driver card download overdue
Exceeded continuous working time (6h)
Exceeded daily working time (10h)
Exceeded weekly working time (60h)
Driver card inserted during a weekly rest

Optimal activity suggestions until the due end of the current shift
Due end date and time of current shift
Optimal start date and time of next shift
---
---