How to improve driver behavior
Why driver behavior is important
Drivers are the single biggest influence on fuel consumption and safety. Even with the best vehicles and most optimized routes, how drivers behave has a significant impact across key performance areas.
Through changing driver behavior, it's possible to make improvements across your fleet. Successful implementation of a driver behavior program benefits individual drivers as well as the business as a whole, and our solution is proven to deliver tangible results across three areas:
Safety: reduce risks for drivers
Savings: spend less on fuel, wear and tear, and insurance
Sustainability: limit your environmental impact
Introducing and maintaining a change program requires action from managers as well as drivers. Fortunately, the My Connected Fleet application provides managers with the tools and insights to understand driver performance, identify training requirements, help drivers self-improve, set achievable goals and ultimately deliver results.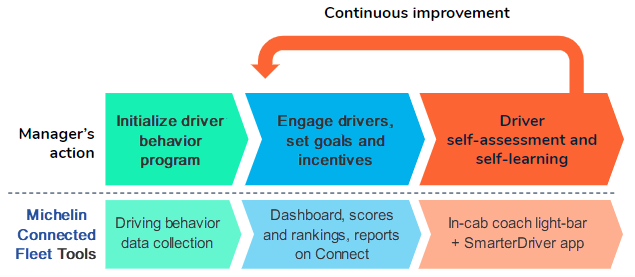 How we score driver behavior
My Connected Fleet measures driver behavior using three scores. Each relates to a different aspect of driving: 
Smoother: harsh acceleration and braking
Safer: driving within the road speed limit 
Cleaner: turning the engine off when not moving
By separating scores into three distinct categories, we are able to provide an accurate, actionable reflection of good and bad behaviors. Each driver's scores will show which elements of their driving require improvement, and by extension where training should be focused. For example, if a driver never exceeds the speed limit but frequently brakes harshly, they may need to improve their anticipation rather than road speed awareness.
How are the scores calculated?
Safer: amount of total driving distance spent within the speed limit
Cleaner: amount of total driving time not spent idling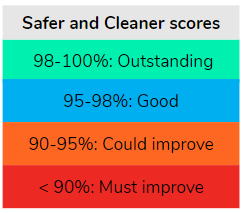 These scores are calculated as a simple percentage. This table shows how to assess performance.
Because there is no equivalent measure for Smoother behavior, our data science team created a formula to convert harsh events into a percentage. This is how to interpret smoother driving scores.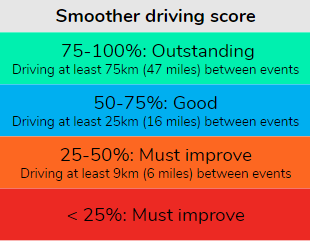 How we give feedback to drivers
Our driving behavior feedback tools interact directly with each driver, meaning no input is required from managers at this stage.
There are two ways to encourage driver change using this feedback:
In real-time while the journey is still underway
Retrospectively when they can assess how they have driven
While both methods can be effective, they are best when used in combination. 
Real time with in-cab coaching
Our small light-bar (or in-cab coach) attaches to the dashboard and connects to the telematics unit we install in your vehicle. Whenever idling or a harsh event is recorded, the light-bar will alert the driver in real time, using a traffic light system and audio notification to indicate the severity of the event. Real-time feedback alerts drivers to bad habits, correcting the problem immediately and discouraging repetition in the future. This promotes self-sufficiency, as drivers are encouraged to improve their own behavior.
After the fact with our SmarterDriver app
Our SmarterDriver app allows drivers to access their own driving behavior scores from their mobile device at any time. The app shows a seven day rolling score for each category, as well as recommended targets and ranking comparisons against the rest of the fleet. This encourages drivers to compare their performance against their peers, creating an environment of self-improvement and friendly competition.
How to engage with drivers
To get the full benefits of a driver behavior solution, managers need to take an active role. The My Connected Fleet program provides the tools to turn data into actionable insights and engage with drivers.
A company-wide driving behavior program is typically an effective way to boost driver engagement. For example, incentives such as monthly rewards for the highest scoring driver encourage friendly competition, further boosting efficient driving.
My Connected Fleet provides trends, rankings and benchmarks to help managers set realistic targets for individual drivers and for the fleet. Benchmarks can be viewed against a custom group, entire fleet and My Connected Fleet community, giving greater context for performance, while trends provide an accurate depiction of driving behavior over time. Once targets have been set, reports can show which drivers are performing the best and should be rewarded.
Dashboard
To access the fleet overview driving behavior dashboard, navigate to Drivers, Vehicles & Reports > Driver and select 'Dashboard'.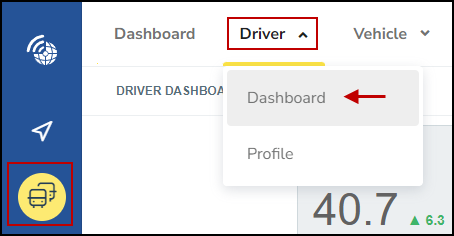 This dashboard displays key metrics and trends, plus a driver ranking table helping to identify who might require extra training and who should be singled out for praise.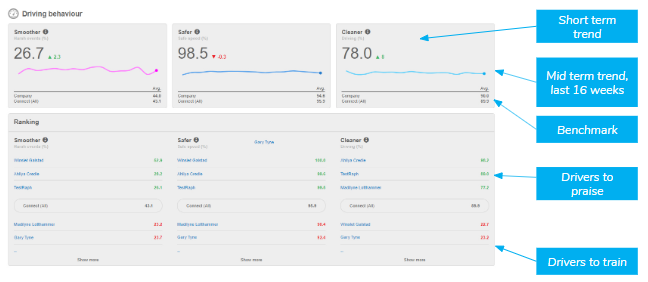 To view individual driver dashboards, select 'Profile' from the Driver menu.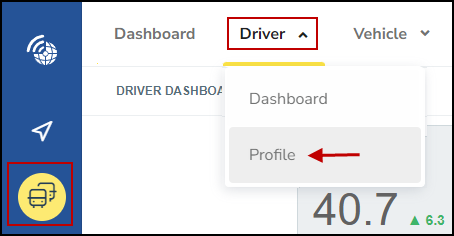 These are helpful for driver meetings as they provide clear, actionable feedback on an individual's driving behavior.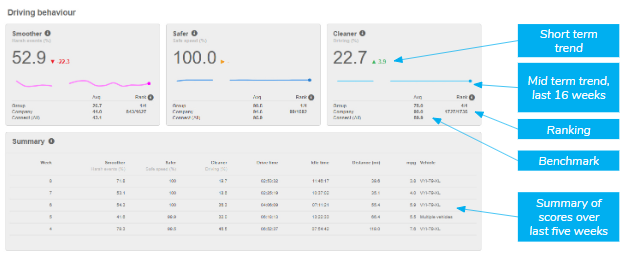 Reports
Reporting allows a manager to maintain a fleet overview and easily identify good and bad driving. All reports can be customized, scheduled, and subscribed to via email. The two reports in My Connected Fleet most relevant to driving behavior are:
Driving Behavior (Summary): an overview of driving behavior scores
Fuel Usage Report: a report on fuel consumption, including fuel waste while idling
To run a report, select 'Reports Library' from the Reports icon. Click 'Select' on the desired report to view it or create a subscription.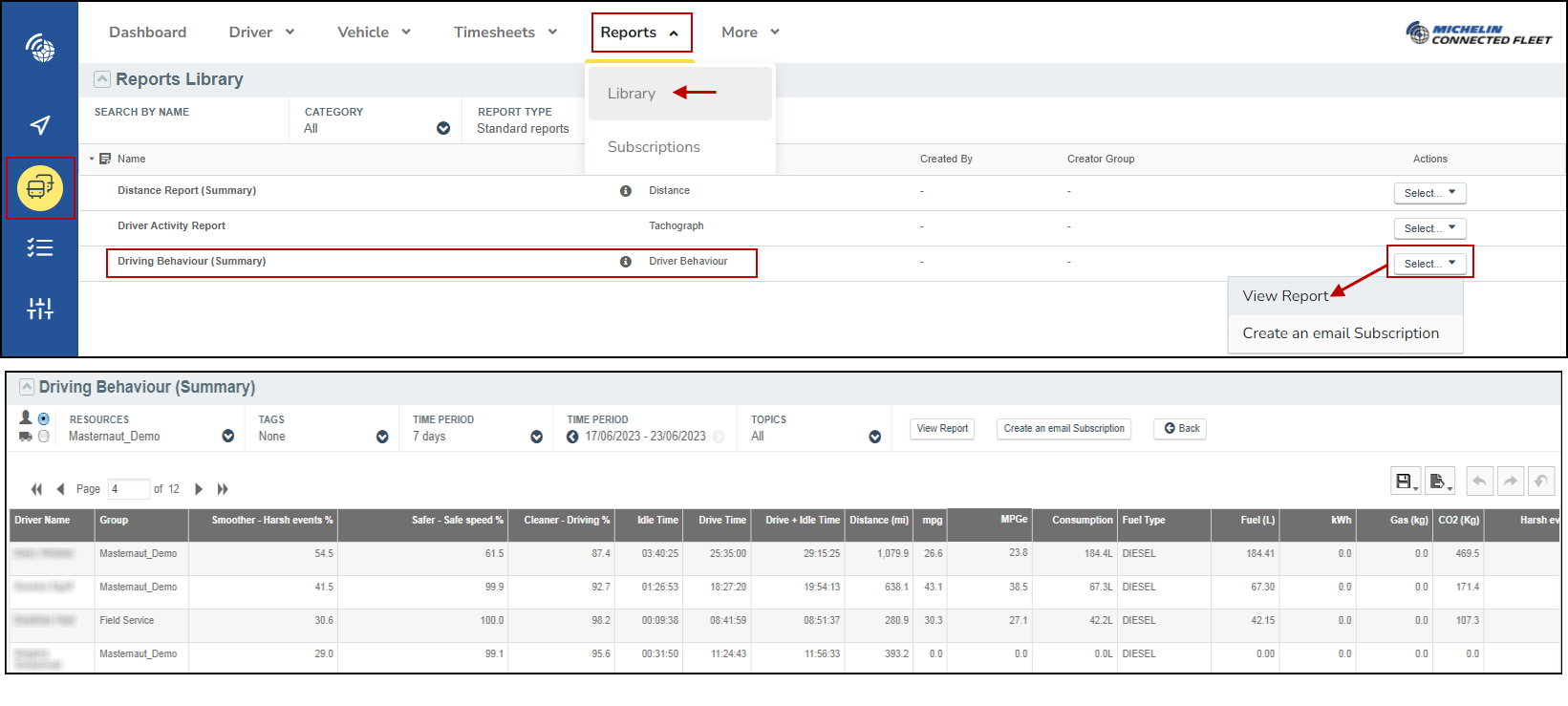 ---
---