Follow vehicles' maintenance
Masternaut Connect allows you to remotely collect up-to-date maintenance information straight from the vehicle's electronic control system..
The scope of the service encompasses for cars and vans:
Engine Check
ABS malfunction
Oil temperature and Pressure
Water Temperature
Vehicle Servicing
Key benefits
Make your fleet safer with live maintenance data collected on the vehicle CAN bus.

Improve your maintenance planning with centralised faults and servicing information

Enrich your fleet administration system with maintenance data via Connect API
Access to the Maintenance Data Reports
Add the following features to the role that requires access to the Maintenance reports.
Admin > Roles > Reporting > Reports Library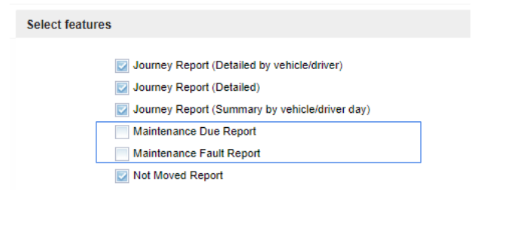 Once added, the maintenance reports will be visible in the Reports Library:

Maintenance Due Report 
This report list all vehicles where a service due date is set. 
For each vehicle, the reports shows
The service due date
Distance to the service due date
Whether the service is overdue.

The Connect platform will automatically detect when a service has been completed on a vehicle.
Maintenance Fault Report 
This report list vehicles with faults and highlights the faults that are currently active.
For each fault, the reports shows:
The description of the fault
Date the fault was detected
Date the fault was no longer detected
The Odometer when the fault was detected
The Odometer was no longer was detected
If the Fault is currently active.
Note that Unknown Fault is reported if a fault is detected on for the vehicle but the nature of the fault has not been verified by Masternaut.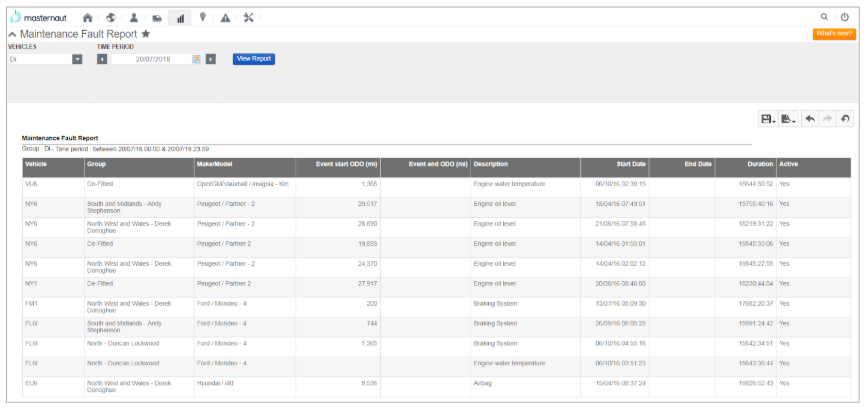 You can create a customised version of this report by adding a filter to list only those vehicles with active faults. And subscribe to automated daily / weekly / monthly email reports too!
---
---