Report on Out of hours/Working hours
Benefits: An essential report to improve productivity, reduce mileage and unnecessary fuel consumption, reduce overtime, ensure that schedules are compliant with working hours etc.
View the journey activity of a driver, a vehicle or a group either out of or inside of a defined time range. Setup the same hours or different hours for each day, using 'more options'.
Go to Report library and find the standard report named: Out of Hours / Working Hours Report (Detailed). Click on Create an email Subscription.

Add emails recipients for the report (1)
Select whether this report is for the entire vehicle fleet or a particular group (2)
Define whether you want to receive information about events outside of work hours or during (3)
Click on more option (4) to set up your week. For example from 8am to 5pm from Monday to Friday and no activity on Saturday Sunday.
Finally, configure the period and frequency at which you want to receive the report (5) and its format (6).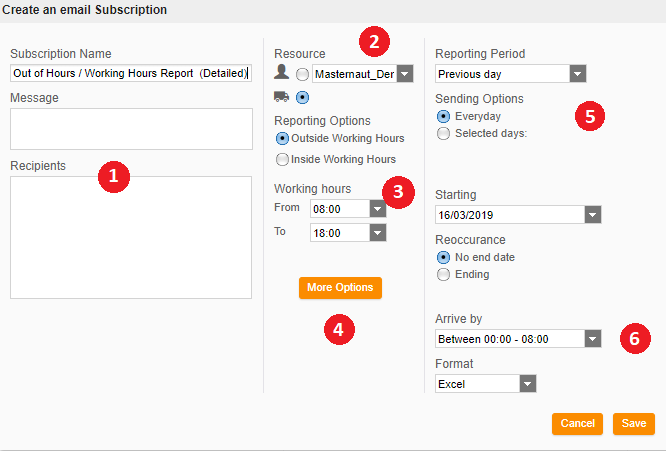 The standard report presents by journey:
vehicle registration
group name
driver name
Start date of the journey out of the defined hours
End date of the journey out of the defined hours
Shift time
Moving
Idling
Stopped
Start location
Stop location
Distance
Max speed
Average speed

---
---